Twice Baked Potatoes Recipe is one of my family's favorite side dishes. A baked potato shell is loaded with  light and fluffy mashed potatoes, cheese, and bacon, of course!
Twice Delicious, Twice Baked Potatoes
Baked potatoes with all the fixings, including sour cream, bacon, and cheese, are my favorites. So it's no surprise  that I like these filled baked potatoes!
Twice Baked Potatoes Recipe are as simple to prepare as they are delicious!  Whether baked, fried, or transformed into delightful mashed potato cakes, potatoes are the perfect comfort food. They're the star of the show in Au Gratin Potatoes and the ideal ingredient to a wonderful Slow Cooker Corn Chowder!
I prefer to prepare twice baked potatoes ahead of time and just chill them for supper later that night to make  mealtime even easier (and then freeze any extras for another night).
How to Make Twice Baked Potatoes Recipe?
It's much too simple to toss these stuffed potatoes into the oven while you finish up the rest of your supper. 
They just take approximately 30 minutes to cook through, allowing the cheese to melt nicely and the tops to get  lightly toasted. While Twice Baked Potatoes Recipe may seem to be a complicated recipe, they are really rather  simple to prepare. 
To begin, just bake your potatoes (or make Baked Sweet Potatoes) and set them aside to cool somewhat (I do mine inthe microwave to save time). After that, cut each potato lengthwise in half and hollow out each half.  Make care to  leave a bit of a shell on the skins to prevent them from breaking or cracking. To make the right filling, mash the  insides and whisk in the add-ins.  You may certainly spoon the filling into the shells, but I like to put it in a freezer bag and snip off a corner to pipe it into the shells.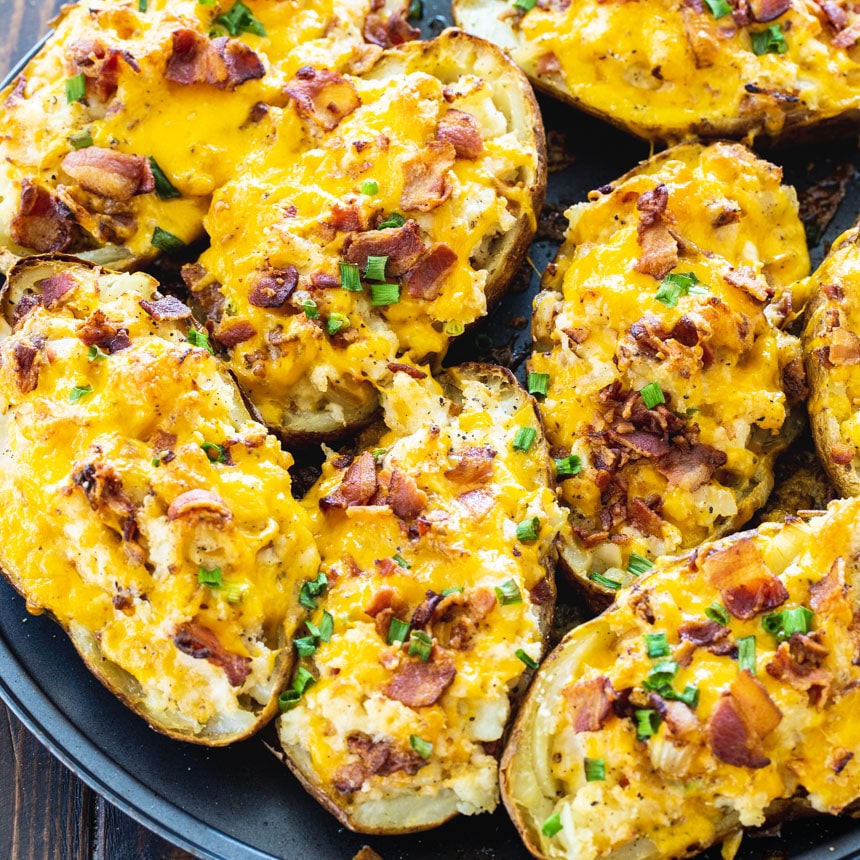 Ingredients
Instructions
Step 1
Preheat oven to 350 degrees F (175 degrees C).
Step 2
Bake potatoes in preheated oven for 1 hour.
Step 3
In the meanwhile, cook the bacon in a big, deep pan. 

Cook until uniformly browned over medium-high heat. 

Drain, crush, and place in a separate container.
Step 4
Allow for a 10-minute cooling period when the potatoes are done. 

Potatoes should be cut in half lengthwise and the meat scooped into a large mixing basin; the skins should  be saved. 

Sour cream, milk, butter, salt, pepper, 1/2 cup cheese, and 1/2 of the green onions should all be added to  the potato flesh. 

Using a hand mixer, combine until smooth and creamy. 

Fill the potato skins halfway with the mixture. 

The remaining cheese, green onions, and bacon should be sprinkled on top of each serving.
Step 5
Bake for another 15 minutes.