Chilean Pebre Sauce is a salsa most used on bread. You can also use it on meats or anything else you desire. This Chilean Pebre Sauce recipe adds a nice bite to your meals
This Chilean Sauce can be found accompanying a wide variety of meals throughout the country, in restaurants and homes alike.  It was love at first bite.  The sauce varies depending on the region of Chile in which it's made in, but the basic ingredients are cilantro, garlic, onion, olive oil, If Mexican pico de gallo and Argentinian chimichurri had a baby, it might look something like pebre.
How To Make Chilean Pebre Sauce?
That Chilean Sauce is something you always have on hand because in Chile they put it on top of everything, from boiled potatoes to empanadas, from stirring it into soup or spooning it over meat.  
Making the sauce is easy.  All you have to do is cut up all of your ingredients into little bits, then mix it all up in a few other ingredients like crushed red chili pepper flakes, olive oil, spicy red chili sauce, and red wine vinegar.  Once you mixed it all up, then you add enough cold water to just barely cover the ingredients in your bowl, stir everything again, then cover it and put it in the refrigerator for a bit to let the flavors meld and develop.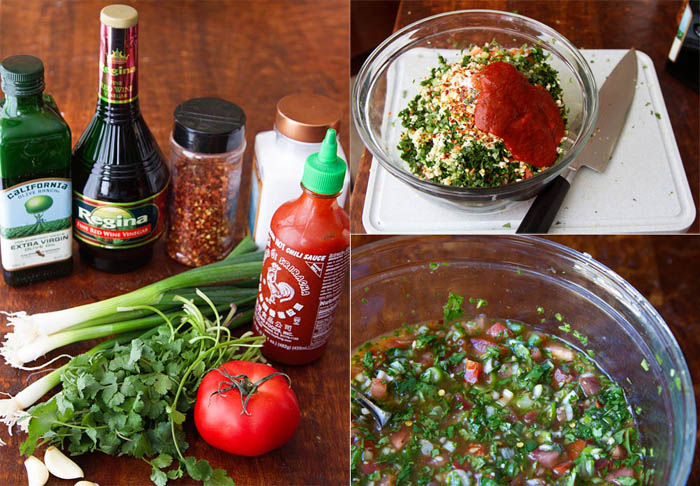 The result is a spicy, tangy, herbaceous sauce that will have your taste buds popping.  I dare you not to love it.
Ingredients
6 scallions, finely chopped
1 large tomato, finely chopped
1 small bunch cilantro (approximately 1.5 ounces), leaves and small stems finely chopped
3 to 4 large garlic cloves, minced
3 tablespoons red wine vinegar
1 1/2 tablespoons spicy red chili sauce, like sriracha
1,2 tsp olive oil
1/2 tablespoon crushed red chili pepper flakes
1/2 teaspoon fine grain sea salt, plus additional to taste
water
Instructions
1. Mix everything, except the water, together in a medium sized bowl.
2. Add enough cold water to barely cover the contents of bowl.
3. Mix everything together, cover, and place in the refrigerator for a few hours to let all of the flavors blend.  Best eaten the day it is made.
Read More Articles
THE MOST DELICIOUS HOMEMADE TACO SEASONING RECIPE
How To Make A Mojito cocktail At Home?