It's impossible to mess up these kale chips recipe.  The kale becomes crispy without browning or burning when  baked at a low temperature for a longer length of time, resulting in ideal chips every time.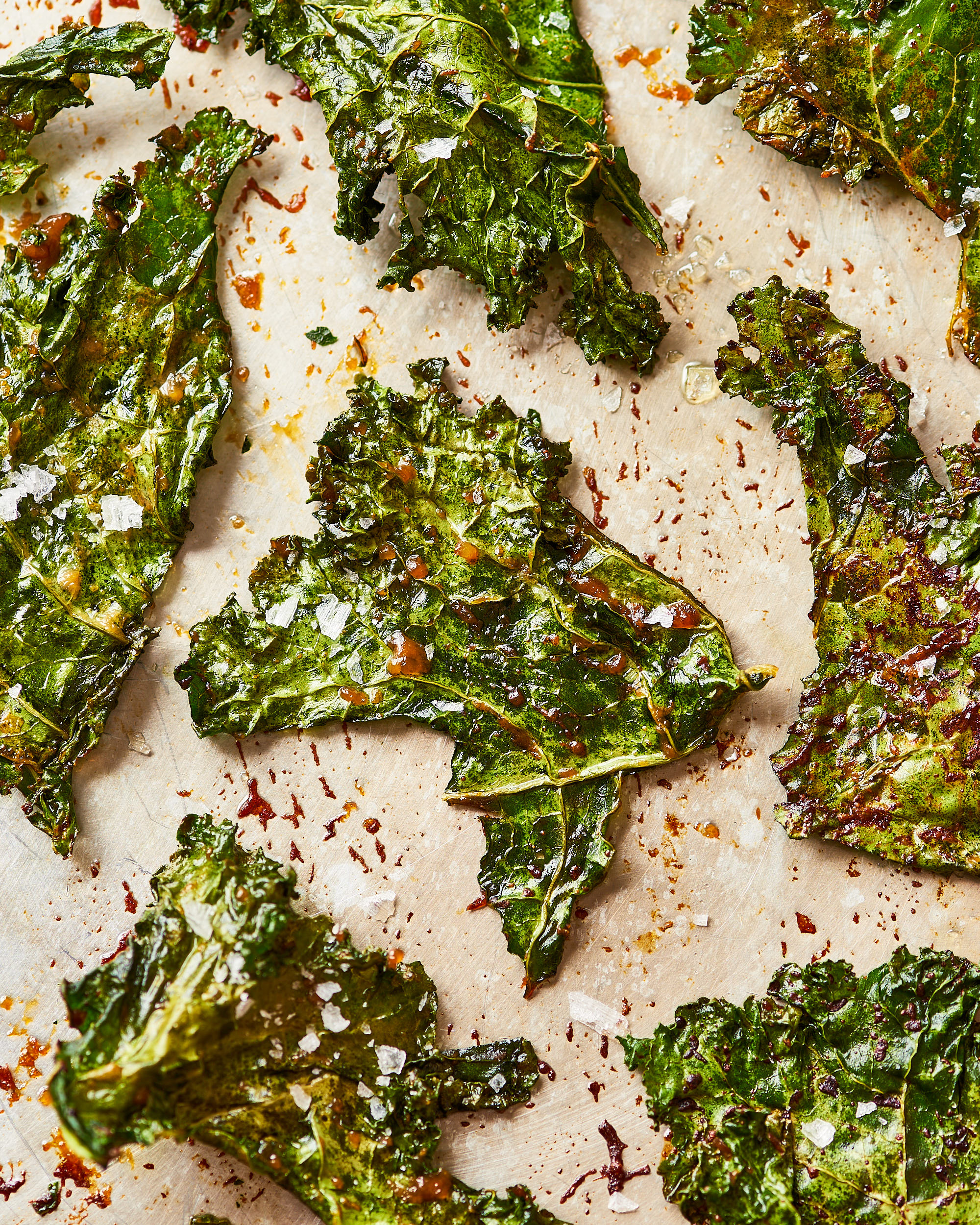 How to Make Kale Chips Recipe?
The process begins with washing and drying the kale, followed by removing the stems and breaking the kale into  smaller pieces. After that, the kale is rubbed with oil and your preferred spices. 
This dish is adaptable, allowing you to add any tastes or spices you like. I've included a couple alternatives below.
After that, the seasoned kale is placed on baking pans with as little contact as possible. The kale will get crisp as a  result of this.
Stir carefully after 15 minutes in the oven and bake for a few minutes further. Crispy and slightly golden brown is  what you're aiming for. However, keep an eye on it to avoid overheating! Allowing the kale chips to cool on the  baking pans after they have been removed from the oven will help them crisp up even more.
You may return them to the oven at a lower temperature or while the oven is off but still warm if they haven't  become crispy for any reason. The cooler temperature will aid in the removal of moisture and promote crispiness!
Seasoning Ideas
Season your kale chips with a generous teaspoon of sea salt! Try experimenting with any of these spice suggestions  for more flavor:
Black pepper

Cayenne pepper

Cinnamon

Cumin

Chili powder

Garlic powder

Hot sauce

A dash of maple syrup

Nutritional yeast
How to Store Kale Chips Recipe?
They're best eaten right away, but they may also be frozen for later! Allow them to cool fully before serving to  keep them crisp. They may be kept at room temperature for 2-3 days after cooling in an airtight container.
You might alternatively fill the airtight container with a few grains of raw rice or silica packets (such as those  found in store-bought kale chips).
Ingredients
Instructions
Step 1
Preheat oven to 350 degrees Fahrenheit (180 degrees Celsius) (175 degrees C). 

Using parchment paper, cover a non-insulated cookie sheet.
Step 2
Carefully separate the leaves from the strong stems using a knife or kitchen shears and rip into bite-size pieces. 

Using a salad spinner, wash and thoroughly dry the kale. 

Drizzle olive oil over the kale and season with salt and pepper.
Step 3
Bake for 10 to 15 minutes, or until the edges are golden brown but not burned.